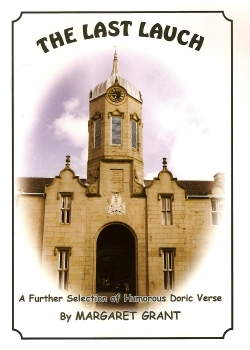 The Last Lauch was one of the best sellers at this year's Wordfringe bookstall, even at events where Margaret wasn't performing. A Further Selection of Humorous Doric Verse, it says on the cover, and humour is indeed the key to her popularity, but that surely undersells the range of poetry you'll find here. For amidst all the understated wit — a wife's pragmatic response to her husband's accident with a cabbage, or a Buchan loon struggling to extract the information he needs from his bank's Indian call centre — you will find touching stories of the pain of aging (Slow Air, Romance No More), or a mother's coming to terms with a daughter born with a missing hand (Quinie Forgie's).
There are well-crafted rhyming couplets aplenty, but Margaret is fond of other forms too, particularly the villanelle, which she uses both for a compact retelling of the Christmas story and for a piece about her uncle who fell at Ypres in 1917.
Expect to be entertained then, with tales of the absurdities of modern life, but expect also to go away with some deeper emotions stirred.